Teacher learning is a continuous process that promote teachers' teaching skills, master new knowledge, develop new proficiency, which in turn, help improve students' learning. Previous studies have indicated that when teachers are effective classroom managers, their students achieve at a higher level (Freiberg et al. 1995; Omoteso and Samudara 2011; Stronge et al. 2011; Stronge et al. 2008) and display more interest in the class subject matter (Kunter et al. 2007).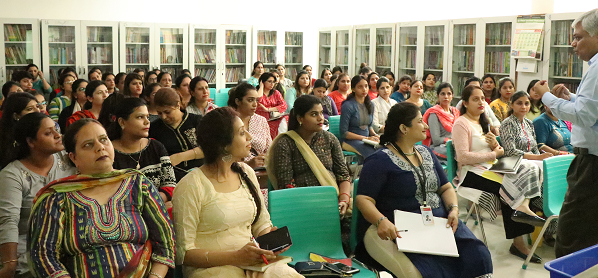 Classroom management is essential to both teachers' education and teachers' professional development, it is crucial to keep teachers knowledge up to date, so they can deliver high quality teaching (e.g., Emmer and Sabornie 2015; Pianta 1999). Interestingly, we know very little about teachers leaching, considering that, teachers themselves are experts in teaching and learning. My thesis explores this area, in order to shed a light on the problem of teachers' learning.
Certain workshops held at PIET Sanskriti School are:
1. Workshop by Ms. Pushpa Kapuria
Theme: Effective Teaching Techniques
Date: May 24, 2016
EVENT REPORT: An interactive and impactful workshop to introduce effective teaching techniques was conducted by an experienced and senior academician Ms. Pushpa Kapuria. She talked about various teaching techniques to make the teaching learning process more interesting and effective. She threw spotlight on the importance of child friendly techniques. Queries and challenges faced by the teachers were addressed and novel ideas for teaching were shared. Teachers were inspired to incorporate various language games to make the class more interactive.
The workshop was concluded by suggesting the teachers to utilize good techniques for planning, implementation and evaluation. The workshop was reflective and goal oriented.
2. Workshop by Ms. Ruchi Gupta
Theme: Components of 'Educomp'-Smart Class Workshop
Date: May 25, 2016
EVENT REPORT: An Interactive session was held by the Educomp resource person Ms.Ruchi Gupta. The workshop was a refresher to the one that was previously conducted in 2015. The workshop stressed on the significance of using the visual aids to explain abstract concepts.. The Smart Boards were described to be a scientific concept on which the teaching methodology is based. '5 E Concepts' i.e. Engage, Explore, Explain, Extend and Evaluate could be followed and linked to the subject that is taught in the classroom. The Stylus-Digital Pen was introduced to the teachers for easy mobility while conducting a particular class. The Teachers were shown how to use the content available in the Lesson Plan Modules to the optimum level. They were trained to manage the folders, edit them, switch view, add resources, use animations etc. The workshop was indeed useful for the faculty members.
3. Workshop by Ms. Sunita Malkani and Ms. Apjit Bassi
Theme: Barriers to learning and creative learning
Date: May 27, 2016
EVENT REPORT: An interactive, innovative and impactful workshop was conducted by Ms. Sunita Malkani and Ms. Apjit Bassi to initiate a new paradigm in the teaching learning process. In a very subtle and creative manner they enabled the teachers to recognise various myriad aspects of multiple intelligence like numeric, linguistic and creative etc. The workshop aimed to facilitate teachers towards their own growth as an individual as well as a teacher. They emphasize on maintaining positive mindset and motivational level to equip teachers to make a bigger impact in the classroom. Apart from this ample teaching techniques to involve students were discussed at length. Versatile strategies and teaching approaches were discussed. Teachers had fun playing various games.
4. Workshop by Dr Vinay Khatri
Theme:Twin Faces of Coin (student and teacher relationship)
Date: May 28, 2016
EVENT REPORT: She urged teachers to maintain a positive attitude as attitude is a little thing that makes a big difference. She also defined PAIN as positive attitude in negative situation. She also suggested that the onus to build up a positive relationship with the students is entirely upon a teacher and quoted that if you solve relationship problem you solve misbehaviour problem. She insisted on recognising physical, social, emotional, visual, intellectual and social needs of the kids. She emphasised on carefully planning the learning sessions and to use variety of instructional techniques and materials for the purpose and also to give daily life relevant examples to provide with the better clarity of concepts to children. Teachers also had fun doing activity based learning.
5. Workshop on Organisational Skills on 28 July 2018
Trainer: Ms Kalpana
Feedback:
The trainer offered extensive experience in creating powerful learning opportunities for students in the classroom. She provided us with valuable insight on how to enhance engagement, learning, and social skills of students. She suggested to utilize good techniques for planning and optimum utilization of available resources. She suggested that evaluation should be done through well organised skills. She also suggested to imbibe the same values among the students. She addressed teachers as weapons of an organisation and need to work collaboratively to create a win win situation for all. She succeeded in keeping the workshop interactive and was able to hold the interest of the audience. She emphasised on giving daily life relevant examples to provide with the better clarity of concepts to children. She was able to equip us with new strategies which will help us to facilitate learning in a better manner. She conducted various stimulating activities on Active and Cooperative learning which will further help the teachers to facilitate deep learning , promote interaction and help the students to grapple with the difficult concepts in an easy manner.
6. Topic: Classroom Management and Effective PTM Techniques on Monday, 27th May 2019
Venue: PIET NFL Branch Time: 12:00 to 3:00 pm
Attended by: HUDA and NFL Faculty, Ms. Vaishali Arora and Ms. Bobby Singh
Resource Person: Ms Nikita Kathuria and Ms Nikita Grover
Contact: Anshul Kathuria :91+9560033852 Email Id::[email protected]
TAKE AWAY POINTS
The workshop was an interactive one. It enlightens the teachers about the components of a successful, well –managed classroom.
Instructed teachers to be respectful about the individuality of the students and give a chance to their passion. Students should be given liberty of choice.
Give tangible awards to celebrate hard work of students- It can be a good example of positive reinforcement.
Form Rapport with kids- A level of trust needs to be built between teacher and students. When a students trust a teacher he /she makes an effort to follow their words so become a first contact person after family.
Various innovative strategies which can be applied in the real classroom situation were shared among teachers to make children as your friends so that they can develop the necessary trust in you.
Ask questions and listen- Collect information in a written form, make notes for the same, and create a questionnaire to extract maximum information about family.
Tips were given to identify symptoms of mental illness, never label any child, and be a good listener.
Teachers were guided to maintain a behaviour chart, create peer counsellor, and use non verbal gesture to reprimand the students.
Role of teacher's personality on students in the class was shared. The responsibilities and duties of teachers must be parallel to the needs and the creative minds of the children.
Multidimensional assessment techniques for different categories of students were discussed to judge the emotional behaviour of the students.
7. Capacity Building for Wellness Teachers on 22nd November 2019
Venue: Shiksha Sadan CBSE 17,Rouse Avenue, Mata Sundari Railway Colony, Mandi House New Delhi
Duration: 10:00 am to 6:00 pm.
Conducted by CBSE with Eminent Speakers:
Dr Tanu Jain, Assistant Director General Directorate General of Health Services
Dr Maneesh Singal Professor Head of the Dept of Plastic, Burns and Reconstructive Surgery, AIMS
Dr Rakesh Garg Associate Professor Dept of Onco anaesthesia and palliative care, AIIMS
Dr Piyush Ranjan Assistant Professor Dept of Surgical Disciplines, AIIMS
Rahul Mehra PhD Executive Chairman, Tarang Health Alliance